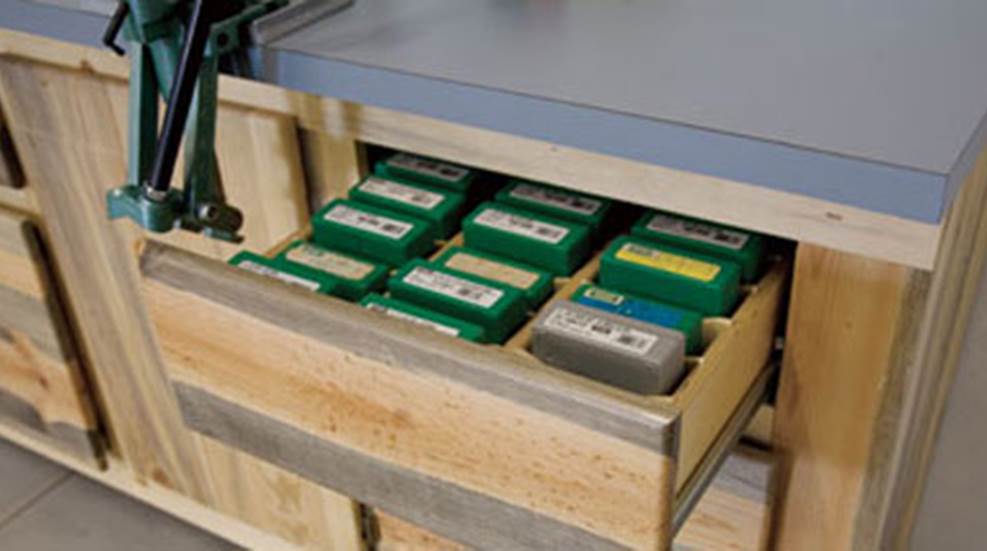 When I moved to Wyoming last year I thought I would finally have the room to build the ultimate reloading bench. And eventually I will, but some logistical realities set in that forced me to build my third basic reloading bench. Nonetheless, this bench will serve 90 percent of a hobbyist reloader's needs. When I finally finish building my house, I'll transform what is now my bedroom into a dedicated reloading room and apply the principals I am about to describe into the "ultimate reloading center." Building a project like this requires some woodworking knowledge and several tools. Now that I have a few of the nicer tools like a commercial cabinet saw, drill press and a plate jointer, it makes the job easier and less time consuming. In the past, when I did not have a large table saw I used a circular saw and a straight edge to rip stock on saw horses, so you don't have to have a complete woodworking shop in order to build this bench. Still, plan on taking about 100 hours to build it.
The primary consideration for a reloading bench is that it be sturdy. Under load any compound-leverage press will put a lot of force on its base, and the best and easiest way to counteract those stresses is with mass and some thoughtful construction. Whether your bench is half the size of mine or like the one I'll build later—a wrap-around reloading center—it needs to be stout. This is no place for medium density fiberboard or orientated strand board. The frame for a reloading bench needs to be made as if it supports a small house, so when I built this bench I did exactly that—framed it like a house and then faced it like a cabinet for convenience and aesthetics. Priority number two is convenience. The bench needs to be a comfortable size. My first two basic benches were 8 ft. long, a good length if you plan to mount three presses. The downside to such benches is that they take up a lot of wall space and tend to be accumulation points for a lot of junk that needs to be dealt with before you begin a handloading project. Too, convenience and efficiency dictate that tool and component storage be close to the center of operations.

To minimize the "clutter factor" and make the best use of space in my shop I chose to make this bench 6 ft. long. This allows me to have two drawers on each side of the center to store dies, shell holders, some of my most used powder and other accessories. A center cabinet stores my tumbler.

The carcass—or frame—of the bench is constructed of 4"x4" legs and 2"x4" cross members. When I purchased the 4"x4"s, pressure-treated lumber was on sale and cheaper than standard, kiln-dried lumber, and I made the mistake of trying to save a couple of bucks. Don't do it. Pressure-treated wood is green as spring grass, and when it dries it will twist and distort, making the fitting of drawers and faces a nightmare.

When I build the reloading center I'll buy clear "two-by" stock, glue it up and mill it to dimension. More money and hassle up front, but better dividends down the road. I dadoed the 4"x4" legs to accept the 2"x4" cross members and screwed and glued them together using commercial construction adhesive. Using both screws and glue helps ensure there is no wobble in the joinery induced years later after things dry out and shrink.