by
posted on May 12, 2009
Support NRA American Rifleman
DONATE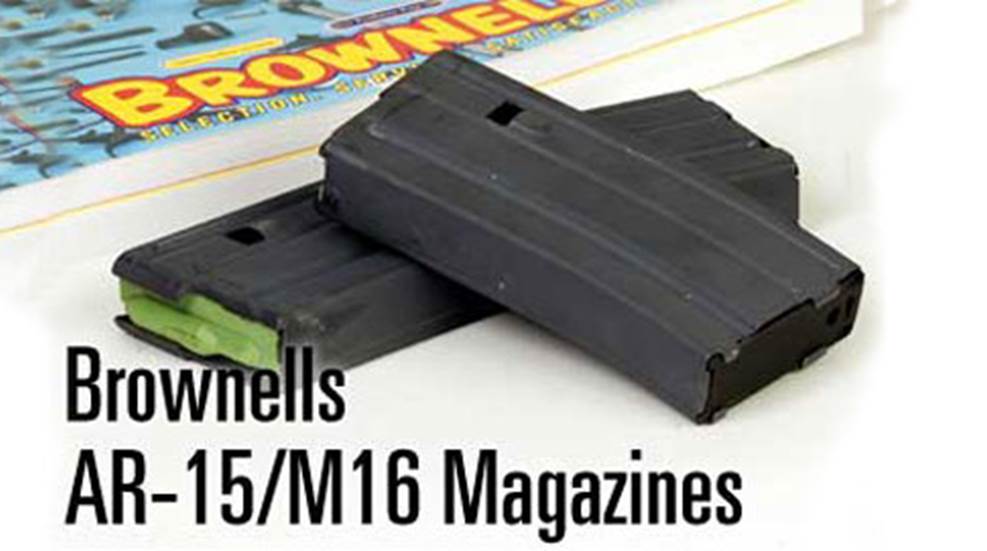 Brownells, a company well known for its gunsmithing tools and factory and aftermarket firearm components, has recently entered the AR-15/M16 magazine market with new 20- and 30-round offerings.

In development for more than a year, the magazines are the result of a military contract Brownells won to provide U.S. forces with 300,000 of the 30-round magazines.
The Brownells-manufactured magazines feature heavy-duty aluminum bodies that are heat-treated, hard-anodized then coated with a gray-phosphate-colored, dry-lube finish. The finish is designed to provide lubricity when the magazine is dry. Additionally, Brownells offers a choice of either stainless steel or chrome silicon springs.
The followers are the now-familiar green composite type designed to prevent tipping within the magazine. In the past, standard followers have had a tendency to tip during feeding and cause jams. The green type is claimed to prevent this malfunction through the use of extended "legs" that keep it upright and stable. The follower design is also the reason the Brownells curved 20-round magazine differs from the straight-body 20 rounders of the past.
We received several 20- and 30-round magazines with the chrome silicon springs for testing. They featured evenly applied finishes, and the followers moved freely up and down in the bodies of the magazines.
After loading several magazines to full capacity, we fired rapid-fire strings with the test rifles canted at different angles. Even loaded to their fullest capacity, the sample magazines functioned reliably.Backed by the Brownells name, these magazines represent a solid value for the AR rifle owner.