by
posted on May 12, 2009
Support NRA American Rifleman
DONATE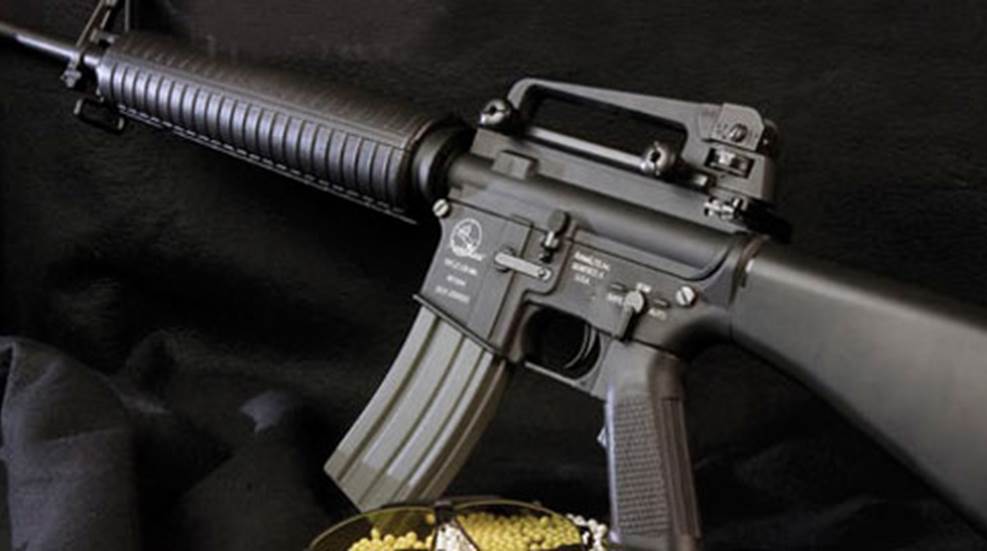 Part of the attraction of the airsoft guns is that their functional controls are similar to their real counterparts. For example, on the ArmaLite M15A4, the bolt handle and bolt stop are merely cosmetic, but the trigger, magazine release and selector lever operate in the same manner as a real select-fire M16. This airsoft replica is set up like an M16A4 with a full-length, fixed, A2-length buttstock, 20-inch barrel, and a removable carry handle for the attachment of after-market optical sights.
The gun relies on power from the rechargeable battery pack in the stock to turn mechanical gears inside the receiver that compress and release a piston, which then creates a blast of air to propel the plastic 6 mm BB through the barrel of the gun.
Battery packs for airsoft guns are measured both in volts and milliamps. The number of cells in a battery pack determines the voltage. Each cell produces 1.2 volts, so a seven cell pack would be rated for 8.4 volts, an eight cell 9.6 Volts and so on. During fully automatic fire, greater voltage means a faster cyclic rate. In contrast, milliamperage, or mAh, determines endurance (the number of shots the battery will produce before it needs recharging),so more milliamperage means more shots, but since battery packs have to be recharged at a fixed rate, it also takes longer to recharge a battery pack with greater milliamperage.
The magazine can hold up to 300 of the 6 mm airsoft BBs (above), and it is wound via a wheel on the box's bottom (below).
The M15A4 is an Automatic Electric Gun that is made of die-cast metal. It relies on power from the rechargeable battery pack in the stock (middle) to turn mechanical gears inside the receiver (bottom) that compress and release a piston. The piston then creates a blast of air to propel the plastic 6 mm BB through the gun's unrifled barrel. Like most airsoft guns, the ArmaLite M15A4 accepts either nickel-cadmium or nickel metal hydride battery packs. Each type has its advantages and disadvantages in terms of power, endurance and ease of use. A compartment in the buttstock accommodates a battery pack of up to 10.8 volts.
Automatic Electric Guns like the ArmaLite M15A4 should be loaded only with premium, that is to say seamless, airsoft BBs. Keep in mind also that re-using BBs in AEGs can cause malfunctions or even damage the gun. The magazine has a 300-round capacity and to ensure reliable feeding you should load at least 50 BBs and wind the toothed wheel that projects from the floorplate. If the magazine clicks as you fire, however, the mechanism has been overwound. Also, a sharp tap against the side of the magazine body will usually free a stuck winding wheel if the gun jams. A fully wound magazine will shoot 50 to 75 percent of its capacity before it needs to be rewound.
Even the best airsoft guns are made from die-cast metal and will never be as sturdy as their live counterparts. For example, the fit of the handguards has to be looser than on a comparable firearm so they can flex without loosening the barrel nut and coming out of alignment with the electro-pneumatic firing mechanism. Additionally, several internal components of airsoft guns, such as the piston, spring guide tappet plate and bevel gears, must be replaced from time to time due to normal wear and tear. Replacement parts are available from the maker. The trigger of an airsoft gun has to do much more work than in a conventional firearm, so it was no surprise that the 6-pound pull of our gun was a bit longer and mushier than those of standard AR-15-style rifles we have tested.
We fitted our test gun with a Sure Power 8.4 v/188mAh Nickel-Cadmium battery and filled the magazine with seamless 6 mm plastic BBs supplied with the gun by Spartan Imports. Velocity, which averaged 272 f.p.s., was astonishingly consistent as the gun's extreme spread (the difference between the highest and lowest measured velocity) was just 10 f.p.s. Rapid semi-automatic fire and even extended fully automatic bursts did not produce any wider variation in velocity.
Further chronograph testing did, however, reveal a tendency for the cyclic rate to fall during extended full-auto bursts. The first four shots cycled pretty consistently at 780 r.p.m., but after that the rate of fire would drop to about 500 r.p.m. through the remainder of the burst. Of course, that is still considerably faster than the 250-300 r.p.m. our test shooters were able to achieve in the semi-automatic mode.
Although the rear sight aperture was slightly canted, accuracy results shown in the accompanying table are comparable to conventional BB guns we have tested.
We have tested a lot of airguns over the past few years. All of them were more accurate and more powerful, but the ArmaLite airsoft M15A4 was by far the most fun to shoot.
Manufacturer: Classic Army, 4/F, Block C, Hang Wai Industrial Area, 6 Kin Tai St., Tuen Mun, Hong Kong, (852) 2463-8348; www.classicarmy.com
Importer: Spartan Imports (Dept. AR), 233 S. Maple Ave. Unit 14, South San Francisco, CA 94080; (650) 589-5522; www.spartanimports.com
Caliber: 6 mm BB
Action Type: battery-powered, electro-pneumatic airgun
Receiver: die-cast zinc upper and lower with matte black finish
Barrel: 20" die-cast metal
Rifling: none
Magazine: detachable box with 300-round capacity
Sights: rear aperture adjustable for windage; front post adjustable for elevation, removable carry handle
Trigger Pull: 6 lbs., 2 ozs.
Stock: black plastic: length of pull, 14 1/4"; drop at heel, 1/2"; drop at comb, 1/2"
Overall Length: 42 1/4"
Weight: 7 lbs., 2 ozs.
Accessories: safety glasses
Suggested Retail Price: $399