by
posted on October 10, 2019
Support NRA American Rifleman
DONATE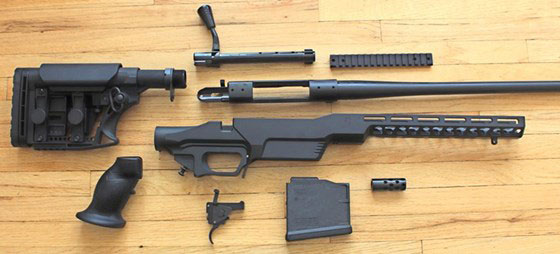 If you ask the do-it-yourself members of the shooting community their reasons for building a firearm at home instead of buying one off the rack, saving money usually pops up at the top of the list. Part of the price tag attached to factory-assembled guns (sometimes a sizeable portion) is the labor costs. If you're willing to make the time, you'll find that sweat equity can put a good bit of cash back in your pocket. Some builders choose to buy a complete firearm and trade out parts over time. Going that route has its advantages, but in the end, you will have paid for various components twice.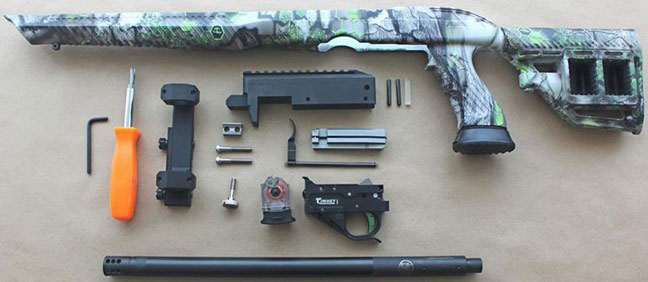 Another top priority with home builds is customization. Even a top-of-the-line firearm may not ship with the set of features you're looking for. If you buy parts separately they can be handpicked to meet your needs.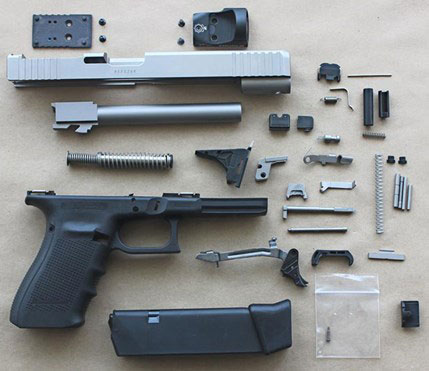 Conducting at-home builds can also be an enjoyable and educational hobby. Building a gun provides an insider's view of all the components. This means you'll know your gun inside and out when it comes time to clean, repair or modify it. Folks who are new to the shooting sports can team up with more experienced mentors to participate in a build, so as to learn more about how guns work. And once your project is up and running, there's that sense of pride in ownership that comes with having done the work yourself.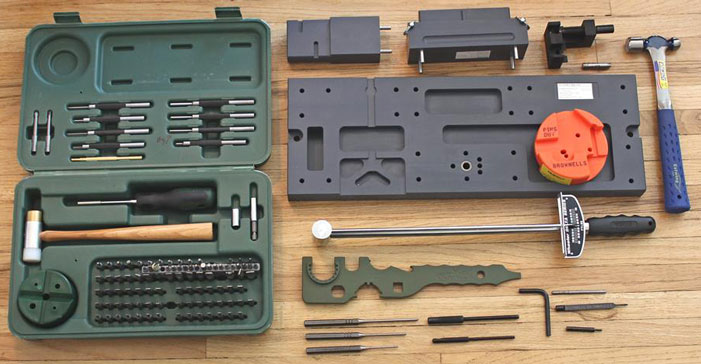 Over the last few years I've had the opportunity to tackle a variety of do-it-yourself gun builds (some for the very first time) and have written "How-To" articles and walkthroughs based on experience. The following list of "How-To"s includes five common at-home builds (Barreled Bolt-Action, Ruger 10/22, Glock Pistol, AR Platforms, AK-47), plus one bonus build for a more exotic rifle.

The model of gun you choose to build will determine what you'll need in terms of instructional materials, tools and work space. Some guns can be completed in an hour or two on a kitchen table top, while others will require a small machine shop to get the job done. The projects are listed in order from simpler to more sophisticated.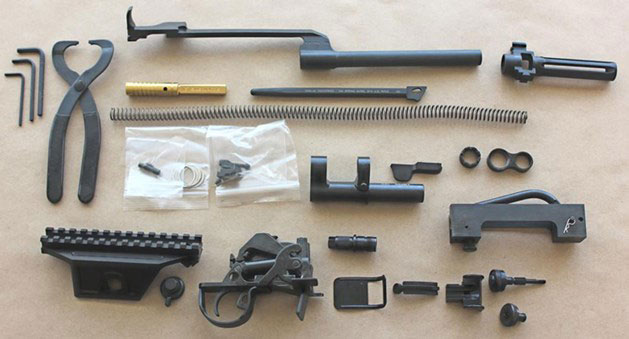 Remember, before purchasing any components or tools, take the time to research and understand federal, state and local regulations, as well as how they apply to the gun you wish to build. Make sure it is legal to assemble and own that firearm where you live. Serial numbered receivers will need to be transferred to you through a federally licensed gun dealer (FFL), just like a factory complete firearm.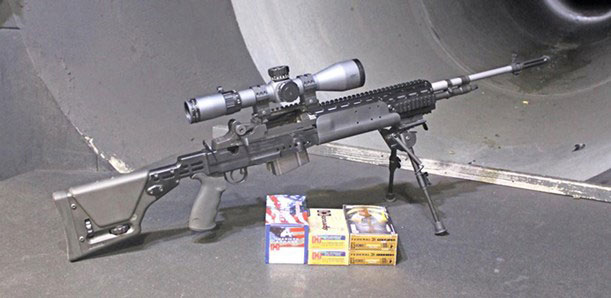 1. Barreled Bolt-Action Receiver Builds
It's not always necessary to start a rifle build with a box of loose parts. In fact, assembling from scratch a quality bolt-action for hunting or long-range target shooting requires a good deal of professional gunsmithing. However, if you run a search on the internet for "barreled actions," you'll find receivers with the barrel and controls already installed (that's the tricky part) from trusted manufacturers including Savage, Remington and Howa.

For this "How-To," I worked with Brownells, the exclusive dealer for top-notch Howa 1500 barreled actions here in the United States. Assembling the rifle took just a few more steps than field stripping the gun for cleaning. It was a simple build with satisfying results:
Building a Howa 1500 Precision Chassis Rifle with Brownells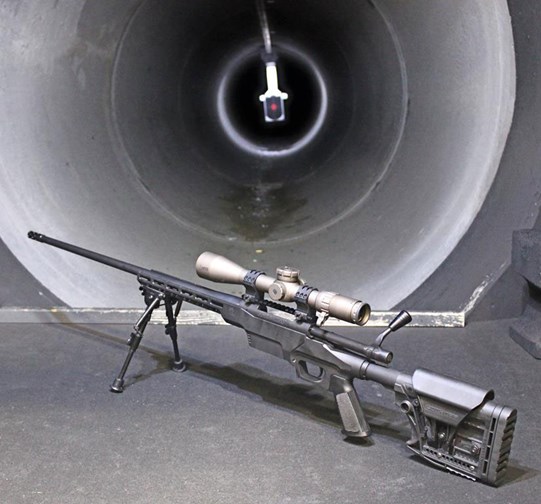 2. Ruger 10/22 .22 LR Rifles
Originally launched in 1964, the Ruger 10/22 semi-automatic rimfire carbine has become one of the most beloved .22 LR platforms in this country. It's light, handy, easy to operate and reliable with a wide variety of ammunition. Because of its popularity and modular drop-in component design, several manufacturers offer all kinds of custom parts and upgrades for the 10/22. It's available from the factory in simple wood-stocked models for hunting or plinking, as well as premium-grade competition models. 

If your goal is to save money, then this is one model where it may be cheaper to just buy a factory-finished basic model, or a used 10/22 from a local dealer. If, however, your goal is a tricked out or custom gun, then building it yourself will cut costs significantly. Depending on which model you choose to build, a 10/22 has between 14 to 16 major components that can be assembled with just a few simple hand tools. This makes it one of the simplest builds available and the results will be a .22 LR the whole family can enjoy. This link will take you to a step-by-step "How-To" for fixed-barrel models:  
            How to Build a Custom 10/22 Rifle at Home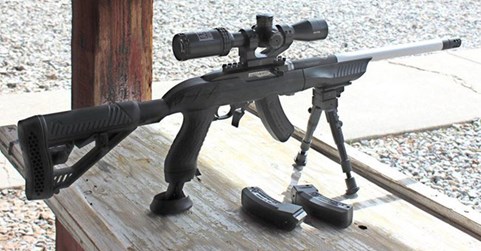 3. Glock Pistols
The younger generation won't remember how some folks sneered at this "ugly plastic gun" from Austria when it appeared on the American gun market in the mid-1980s. In the decades since, the Glock semi-automatic has set the standard for striker-fired, polymer-framed pistols with many more recent models lifting their design cues directly from the Glock.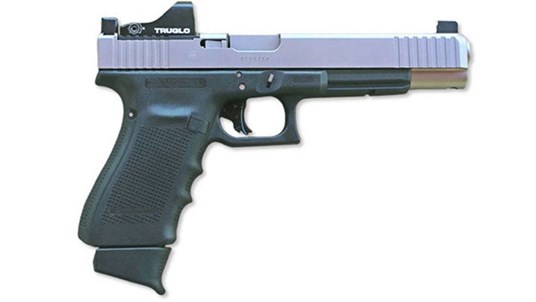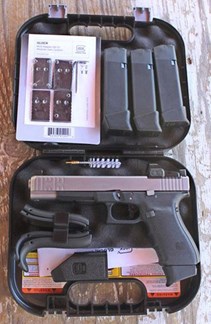 The original Glock G17 9 mm Luger pistol, which was adopted by the Austrian army, contained just 36 parts with a 17+1 ammunition capacity. Today, Glock pistols are available in a variety of calibers and configurations. These pistols have a fully modular design that incorporates drop-in components (no sanding or machining required), most of which can be removed or installed using a simple pin-punch tool. Here is a step-by-step "How-To" in which Glockmeister provided the components and tools:
Building a Custom Glock Pistol at Home

4. AR-15 Rifles and Carbines
The AR-15 is among the most popular semi-automatics today, because of its flexibility and modularity. ARs can be built at home from scratch (a box of loose parts), using pre-packaged kits or a mix of kits and handpicked components. Selecting Mil-Spec standard parts allows the guns to be tapped together without any grinding, sanding or gunsmithing.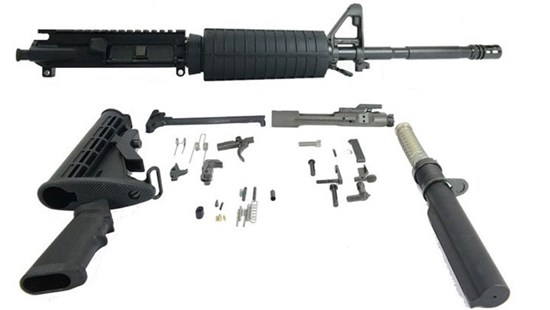 First-time AR-builders should be aware that gas-impingement-operated rifles can contain upwards of 100 individual components, and there's a good deal of lingo to master (like gas-impingement). But building an AR is not all that different from learning to cook or mastering automotive maintenance. If you do your homework and prepare your workspace ahead of time, it's not all that difficult to do.

First-time AR-builders should start with the following article. It's an overview of the AR-15-from-scratch build process with links to "How-To" information, parts lists and the tools you'll need:
Building a Custom AR-15 at Home 
If you want to try a simpler build that takes less time and fewer tools, take a look at this link:
Building a Budget AR-15 at Home
Once you have the from-scratch and simple-build information in hand, here are some enjoyable and useful variations of the AR platform, including pistol builds, an AR-10 Chambered in .308 Win. and a precision target model:      
Building AR-15 Pistols at Home
Building Aero Precision's M5E1 AR-10 from Scratch
Building a Precision 5.56/.223 AR-15 with Luth-AR and Patriot Ordnance Factory

5. The AK-47 Rifle
The previous gun builds on this list are, for the most part, what can be called, "table-top" builds. In other words, you can squeak by with a towel-covered counter top or card table along with a set of hand tools, if you don't have a work bench or dedicated shop space (you do need a shop vice for the AR-15). The AK-47, however, is in a different class. Sanding, grinding, cutting and heat-treating all come into play with a drill press, hydraulic press and sand-blaster being required tools to get the job done.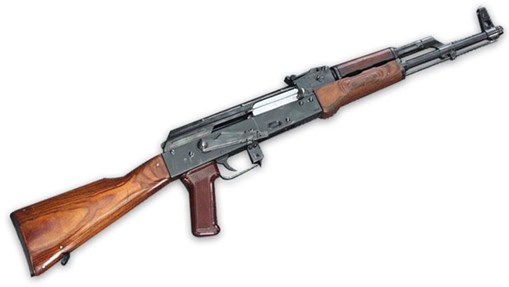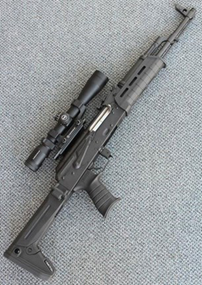 For this project, I teamed up with Atlantic Firearms (components), MOD Outfitters (assembly) and the Park City Gun Club (refinishing) for a detailed walk-through of the steps required to build an AK-47 from scratch, including the receiver itself. There was too much information to cram into one article, so it was broken out into eight sections. The walkthrough starts here:
Build Your Own AK-47: Introduction
* Bonus Build: Custom Competition M1A Rifle
The good folks at Fulton Armory supply their customers with high-quality, factory-complete M1 Carbines and M1A rifles. They also sell kits for the do-it-yourself types. Take a look:
Building the Fulton Armory M65 EBR Rifle