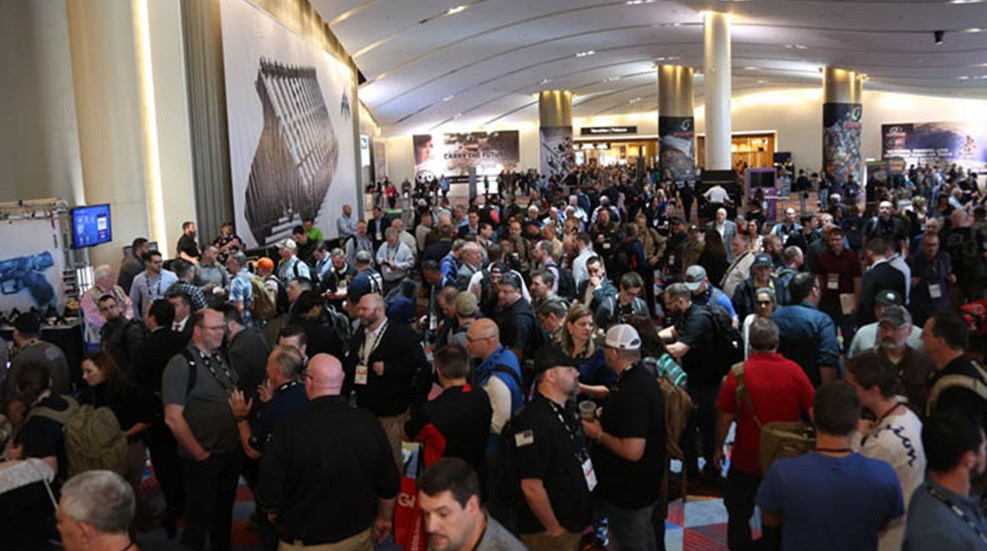 Photo courtesy of NSSF.
---
Geissele Automatics had donated a quarter million face masks for use by industry professionals attending the 2021 Shooting, Hunting and Outdoor Trade (SHOT) Show scheduled Jan. 19 to 21 in Las Vegas, NV.

Gatherings during the COVID-19 pandemic require added safety precautions, but to put the annual showcase of new firearms and gear into perspective, it attracts more than 50,000 attendees every year from dozens of nations. The 250,000 face masks will be distributed during the show, which is expected to cover 714,000 square feet of the Sands Expo Center.
"With 2021 right around the corner, and given everything that's going on, we were unsure if SHOT Show would even take place this year," said Joe Plunkett, Geissele's COO. "We were very pleased to work with NSSF (National Shooting Sports Foundation) to donate these masks in an effort to help facilitate SHOT Show moving forward and keeping everyone safe. We will see you all in Vegas!"
"We have had incredible support from our industry manufacturers for the 2021 SHOT Show, but this donation from Geissele puts an exclamation point on it all," said Chris Dolnack, NSSF senior vice president and CMO. "Sponsors big and small support the SHOT Show in many ways, and we couldn't do it without them. We are greatly appreciative of this tremendous support from Geissele and the generosity of its owners and staff—and we can't wait to see everyone in Vegas in January."
Headquartered in North Wales, PA, Geissele Automatics was established in 2004 when it introduced an improved AR-15 trigger. Today the company manufactures and distributes firearms, optics and parts, primarily in the modern sporting rifle sector. American Rifleman has covered a variety of its products, including its Tavor Super Sabra Trigger Pack & Lightning Bow Trigger.