Support NRA American Rifleman
DONATE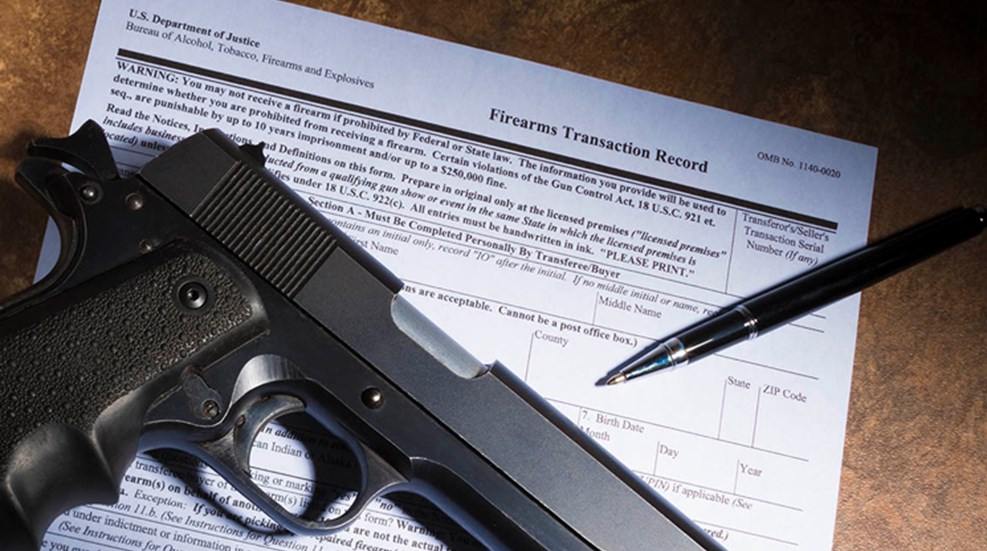 Comparing the most recent FBI NICS checks figures with recent developments in the industry makes an interesting mix. In July (the latest available), 1,835,318 backgrounds were processed through the system.
It's the second-highest on record for the month since the system began, but not every NICS check represents a gun purchase. Yes, it's an easy-to-grasp barometer, but the overworked system is used for other duties—not the least of which is ensuring the increasing number of concealed-carry applicants and permittees don't have anything disqualifying in their history. Kentucky, for example, ran 379,409 of those alone through the system last month.
A more accurate representation is found in a pair of  graphs created by National Shooting Sports Foundation, adjusted to reflect gun sales. "Small Arms Analytics & Forecasting estimates July 2018 U.S. firearms sales at 856,505 units, a year-over-year decline of 9.9% from July 2017…." the organization said in an Aug. 2, 2018 press release. The difference in figures is huge, and easily understood by more than the 816,000 permit checks last month.
Operating in the "new norm" in firearm sales growth is a big challenge, but some companies are not just surviving, they're on the road back to thriving. Publicly traded Ruger's latest earning report (reflecting the quarter ending on June 30) showed an earnings drop of only 3 percent when compared to the same period in 2017. 

Company CEO Chris Killoy said the prognosis for the remainder of its fiscal 2018 is vastly improved, thanks to that performance. "When things slow down to a more normalized pace, I think new products rule the day," he said. "And so, as a result, products like the Pistol Caliber Carbine produced up in New Hampshire have done extremely well. We've got probably one of the most in-demand items both at the national account level, as well as the independent retailers."
Olin, parent company of Winchester, indicated commercial ammunition sales are significantly better than last year—although still slightly down—in its latest earnings report. "Throughout the first half of 2018, our efforts to recover higher commodity metal prices through higher selling prices met with limited success," explained company CEO John Fischer. "We do think if you look back historically, commercial volumes tend to decline somewhere around six consecutive quarters off of a peak. The second quarter of this year would have been the sixth quarter. So, we have expectations that commercial volumes will stabilize here."
No one claiming the grand opening of a new Sporstman's Warehouse in Milpitas, Calif., Aug. 16 to 18, reflects a nationwide return of the industry's 2016 record-setting pace. It does, however, add at least one corporate number cruncher to the growing group of experts who seem to believe things are looking a lot better—despite adjusted NICS numbers—in the long-term.