Support NRA American Rifleman
DONATE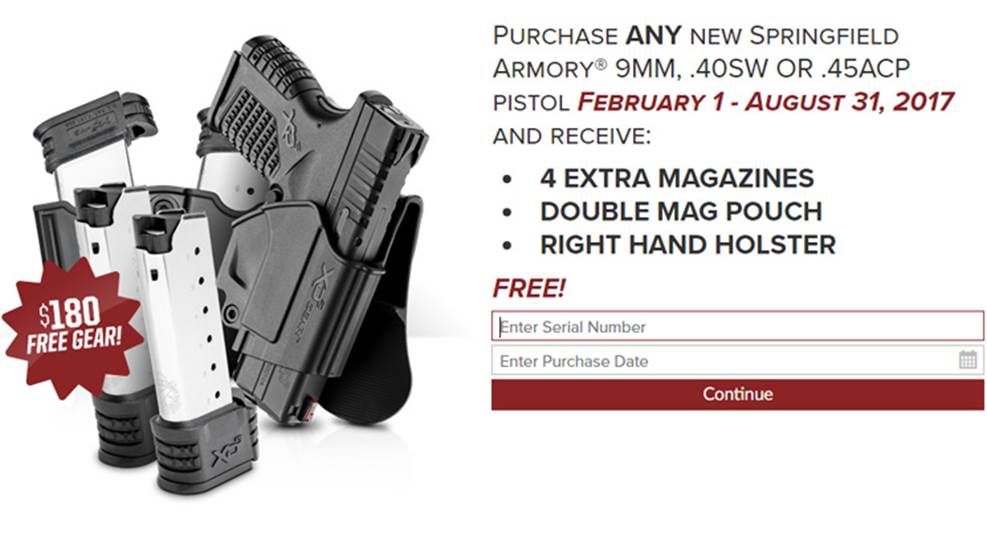 Gun sales traditionally slow a little in summer and the odds are good your local dealer's shelves are full, a situation they'd like to remedy. Couple local deals with rebates and incentives from manufacturers, and it's a great time for budget-conscious shooters to do some shopping.
Pick up a Springfield Armory 9 mm, .40 S&W or .45 ACP pistol before September, for example, and you qualify to receive four free magazines, a right-handed holster and double-mag pouch—a $180 value. "There are some attractive prices out there for the general consumer, but what Springfield Armory aims to provide is more than just a great price," said Stefanie Reese, Springfield public relations and communications manager. "It's the added value. We've had a successful rebate going on that has had so much positive feedback, we're extending the promotion through the end of August 2017."
Smith & Wesson has a similar approach. Purchase an M&P before October and residents in most of the nation can receive two boxes of Hornady Critical Defense ammo, two magazines to run it through and a Caldwell pistol magazine recharger. Those who live in "restrictive" states can take home up to $75 in rebates.
There are others. Through Sept. 15 you can get $100 back on the purchase of a Walther PPQ or PPS. Claim the right model H&K handgun and you can also score four free magazines.
If you're looking for a modern sporting rifle, you're still in luck, according to Chris Kurzadkowski, owner/company "commander" of Battle Rifle Company. "Now is a good time to shop for a gun …. Pricing is better," he said, " … but you'll have to really shop for quality parts and builds. A lot of manufacturers are unloading their lesser quality rifles—look for quality builds at competitive prices."
DPMS has offerings from elaborate builds to bare-bones versions. Right now you can get up to $150 back on select models purchased on or before July 30 … so hurry. It, like all of these offers, will expire just about the time hunting seasons start.